---
---
For your chocolate lover, Madeline's Pantry has selected our darkest, richest, moist, most flavorful chocolate baked goods to include in this sampler.
 
The ideal special gift that your entire family can share!
* 4 – 5 oz. Chocolate Muffins
* 8 – 1 oz. Chocolate Chip Mini Muffins
* 6 – 2.5 oz. Chocolate Brownies
* 8 – Chocolate Chip Cookies

*PERSONAL NOTE AVAILABLE AT CHECKOUT PAGE*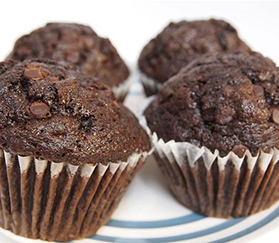 **Chocolate Muffins  MADE IN A PEANUT FREE & NUT FREE FACILITIES**
 
Use And Care
Bakery items are made fresh-to-order, individually wrapped and picked up for immediate shipment. Upon arrival, you may open the box and serve them immediately or store them in the freezer to preserve them for up to six months.
---